Alert On A Scam
It has come to our attention that there has been scam incidents involving the misused of our Company's name. The scammer by the name of Charlie Wong has pretended to be a staff of Kajima (Malaysia) Sdn. Bhd. ("KM") and approached different companies to purchase goods to be delivered to their designated location.
We would like to remind our fellow business partners and visitors to be vigilant of suspicious phone calls, messages and/or emails, and to be on a lookout for the follow red flag indicators:
Company information with numerous typos, and incomplete/incorrect data
Ensure general information are counter-check against information provided under our official website / authorized company search engine.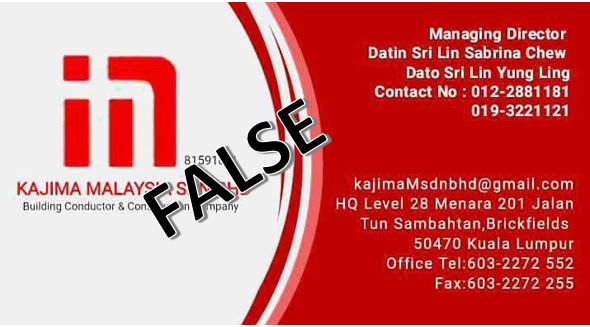 Communication made via Gmail, Yahoo, or other free email
Ensure that any communication with Kajima Malaysia are made through our official domain [@kajima.com.my].

Should you require to seek clarification on any suspicious communication from party declaring the name of KM, please do not hesitate to drop us an email at whistleblowing@kajima.com.my.
KM takes a serious view of any false statements or scams using the Company's name, logo or trademark without authority and reserves the right to seek legal recourse against any attempt to mislead the public / or tarnish the Company's name or reputation.